Who should attend?
Anatomy lecturers
Anatomy researchers
Anatomy tutors
Clinical anatomists
Medical educators
Medical and dental practitioners
Allied health sciences professionals
Biomedical scientists
Medical technologists
Postgraduate and undergraduate students who are interested in anatomy education and research.
Terms and Conditions of Participation and Payment
Registration for MAAC 2022 conference is processed via our website (MAAC2022 Registration). The participant will receive a registration confirmation upon successful registration. Early-bird registration is valid until 31st July 2022 1st September 2022 and thereafter the regular registration fees will be applied. Payment must be secured for the registration process to be completed.
Fees details: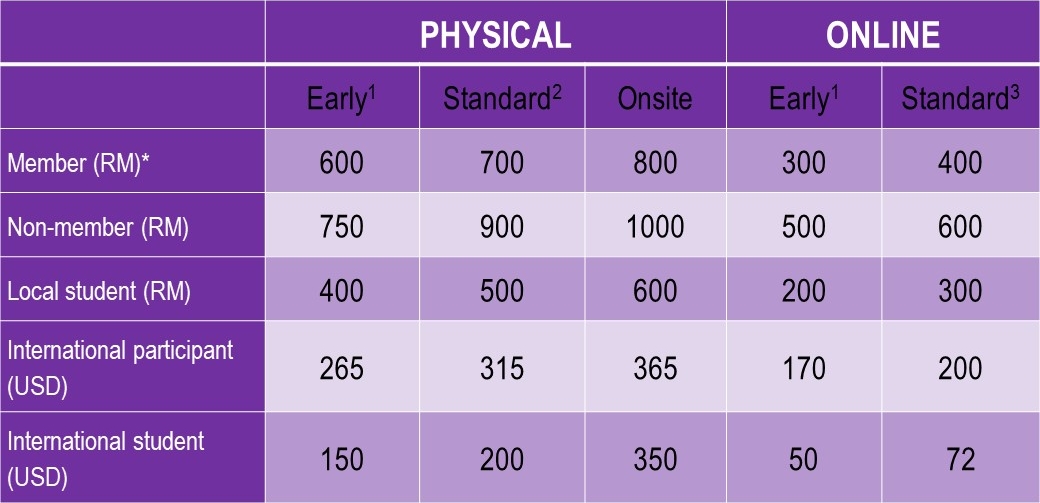 ¹ Before 31st July 2022. 1st September 2022.
² From 1st August 2022 2nd September 2022 – 1st November 2022
3 From 1st August 2022 2nd September 2022 – 2nd November 2022
* An active membership status for 2022 must be secured to be eligible for this registration type. To check your membership status, please click on the LIST OF ACTIVE MEMBERS 2022. To renew membership or register as a new MAA member, please click on this link : RENEW/NEW MAA MEMBERSHIP
The conference fee includes:
1. One conference kit, including the programme book and a name badge.
2. Access to all lectures and presentations of the conference.
3. Coffee/tea and snacks during morning and afternoon breaks throughout the conference sessions.
4. Lunch during lunch breaks for 2 days.
5. Certificate of attendance.
6. Abstract publication in the Malaysian Journal of Medicine and Health Sciences (MJMHS) (for presenting authors)
Please note:
i. The conference fee does not include the skybar banquet dinner on the 2nd November 2022. If you wish to join the dinner, please indicate your choice and this will be added to your total payment.
ii. Delegates must be over the age of 16 to enter the exhibition hall
iii. For students, we request the enrollment status verification from the Postgraduate Division of the University to be entitled to the Student rate.
iv. Non-Malaysian staff (Non MAA member) working in Malaysia (except expat staff) are entitled to the Local Non-Member rate
v. International students studying in Malaysia are entitled to the Local Student rate.
Payment terms
There are a few options for the payment:
1. Online payment via QR code using local bank apps or Touch N Go E-Wallet (direct transfer/debit):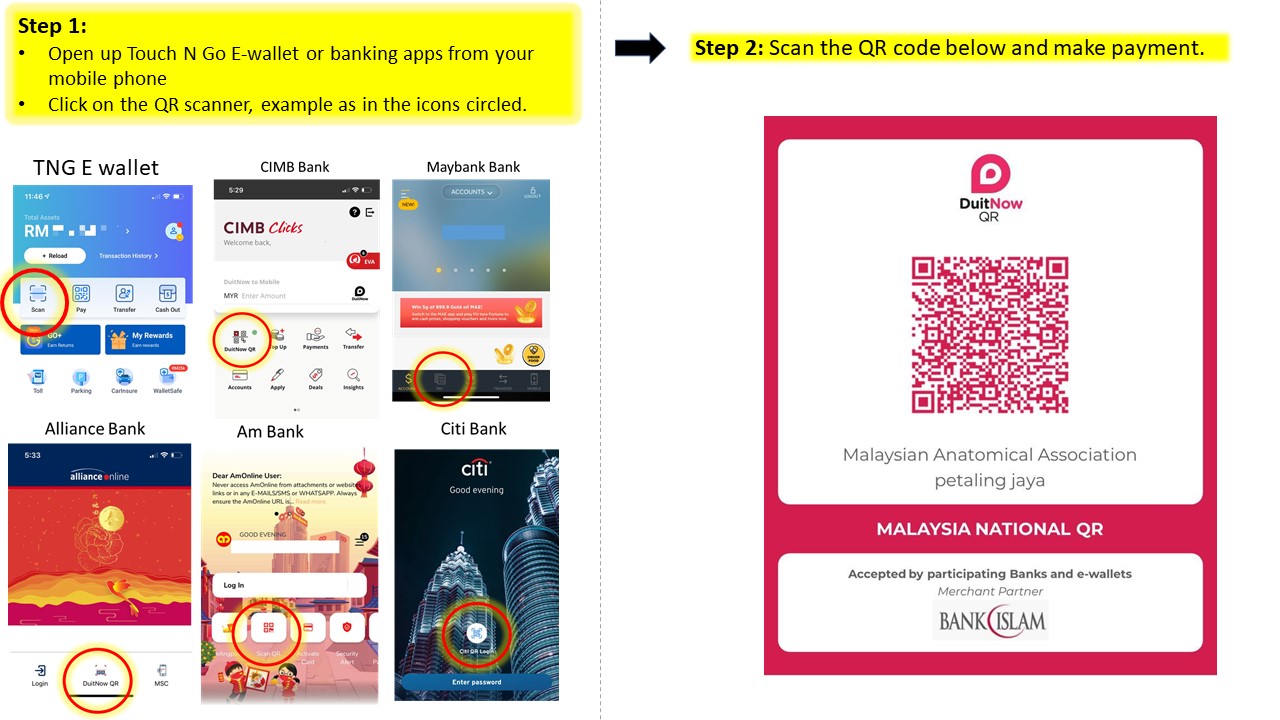 2. Online bank transfer to our MAA bank account:
Account Name: Tetuan Persatuan Anatomi Malaysia
Account Number: 14256010004995
Bank: Bank Islam Malaysia Berhad
SWIFT Code: BIMBMYKL
3. Payment by credit card:
During check-out, please choose the option to pay by credit card on the Payment Method section.


Please save the transaction receipt as proof of payment. You will be asked to upload the payment proof in the final registration step.
Cancellation and reimbursement
1. For cancellation before 1st September 2022, the full amount paid minus a 20% processing fee will be refunded.
2. A 20% fee will be assessed with the original registrant for transfers of registration to another attendee for the same conference.
3. No refund will be issued for cancellations received after 1st September 2022.
4. If you are booking an in-person place for MAAC 2022, you can book with confidence. In these uncertain times, we are hopeful that we will still be able to meet in person in November 2022. However, if circumstances require us to switch to an online conference only, we will change your registration to virtual and we will refund the difference in cost, guaranteeing your attendance at this exciting event.
Disclaimer of liability
Should the conference be disrupted or canceled as a result of unforeseen events or a covid-19 situation, the organizers shall not be liable to pay any compensation.
TO REGISTER NOW, please click this link: MAAC2022 Registration